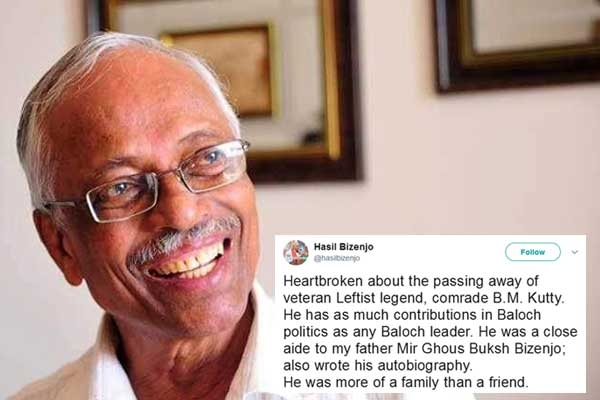 (Image source from: Twitter/hasilbizenjo)
Indian origin Pakistani politician and human rights activist Biyyothil Mohyuddin Kutty, popularly known as B M Kutty, died on Sunday in Karachi after a prolonged illness. He was 89.

"He was ill for a while. He spent his life fighting for civil and human rights," said Marvi Sarmad, a human rights activist and journalist.

B M Kutty moved to Pakistan from Kerala state in India in 1949. His wife Birjis Siddiqui died in 2010. The couple has four children.

Condoling the death of Kutty, Kerala Chief Minister Pinarayi Vijayan remembered him as a "leader who constantly fought for improving the relation between India and Pakistan".

"He (Kutty) was born in Tirur (in Malappuram district) and later emigrated to Pakistan and emerged as a major figure in Pakistan's politics," Vijayan said. "He was also a prominent journalist and a determined leader who fought for peace and against communalism," he added.  

Life of BM Kutty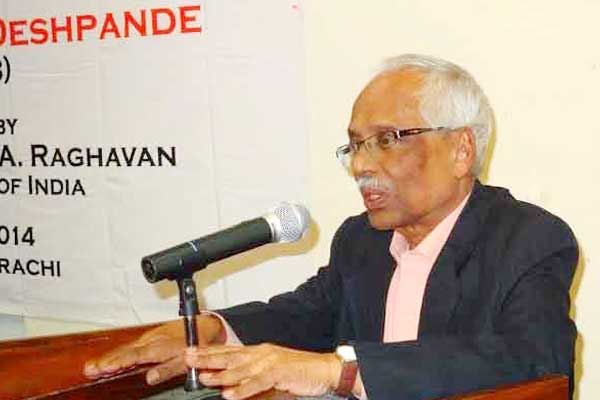 (Image source from: www.thenews.com.pk)

Born in 1930 in Kerala's Tirur town to a Malayali Muslim family, Kutty was  raised in middle-class resources. Kutty joined the Muslim Students Federation at the age of 16 under the All-India Muslim League. He attended Mohammedan College in Chennai, where he studied science for four years.

In 1972, Kutty associated with the then governor of Balochistan province Ghaus Baksh Bizenjo and served as political secretary - this can be regarded as the high point of his career.

Kutty served as the general secretary of Pakistan Peace Coalition, a civil society group that aims to promote peace between India and Pakistan.

In 2011, Kutty launched his autobiography "Sixty Years in Self-Exile: No Regrets; A Political Autobiography", in which he narrated the story about his journey from Kerala to Karachi. He also made clear why he had chosen to stay in Pakistan.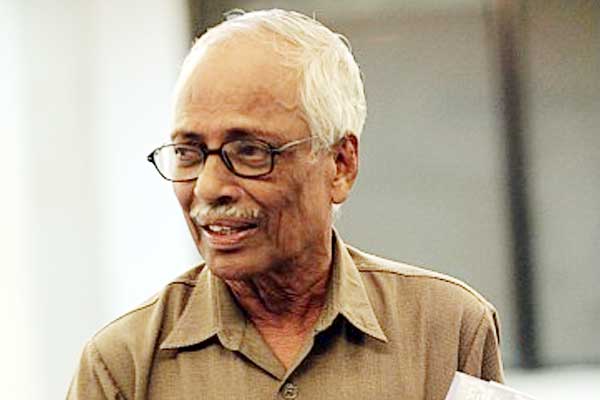 (Image source from: Rediff.com)

Condolences Pour in for Pakistani Peace Activist   

Talat Aslam, a Pakistani journalist and editor of the News International daily, tweeted: "Sad to learn about the death of veteran left activist BM Kutty. Originally, from Kerala, Kutty came to Pakistan as a young man and became a key figure in the politics of his new homeland, championing progressive causes…"


Sad to learn about the death of veteran left activist BM Kutty. Originally fm Kerala, Kutty came to Pakistan as a young man & became a key figure in the politics of his new homeland, championing progressive causes. He was a close confidant of veteran Baloch leader GB Bizenjo. RIP

— Talat Aslam (@titojourno) August 25, 2019
Heartbroken about the passing away of veteran Leftist legend, comrade B.M. Kutty. He has as much contributions in Baloch politics as any Baloch leader. He was a close aide to my father Mir Ghous Buksh Bizenjo; also wrote his autobiography.
He was more of a family than a friend. pic.twitter.com/G5fynCYI0v

— Hasil Bizenjo (@hasilbizenjo) August 25, 2019
Rest in peace, Kutty sahib. We will miss your gentle peace-making ways profoundly. Remember going with him to Nirmala Deshpande's funeral in better times. He worked so hard for progressive politics to take root, never daunted by setbacks. Feels like the end of an era. Sad pic.twitter.com/pT5cpCVl8L

— SenatorSherryRehman (@sherryrehman) August 25, 2019
A pic of MRD leaders' meeting (1987 Karachi) headed by late Benazir Bhutto. #BMKutty is seen in 1st from the left. In the anti-Zia dictatorship movement, BB used to ask Kutty to draft MRD documents/press briefings bcoz of his command in drafting political documents. pic.twitter.com/w0nYpdrqgg

— Zia Ur Rehman (@zalmayzia) August 25, 2019
In Shashi Tharoor 's words, Kerala's gift to Pakistan.

RIP #BMKutty https://t.co/sGryej0NvL

— Ayanangsha Maitra (@Ayanangsha) August 26, 2019
BM Kutty-in him I have lost a great comrade, he was not only an intellectual of the left but also an activist till he could do it. Great loss for all of us.#comradekuttyfarewell@bmkutty

— BabarAyaz (@BabarAyaz1) August 26, 2019
By Sowmya Sangam